Product Description
XHnotion 1/4″NPT Nylon Locking Sleeve Quick Coupling with Aro Milton and Euro Plug
3 in 1 type Quick Coupling has Nylon locking sleeve and can be connected with 3 types plugs — Milton series, Aro series and Euro series.
Features
1. We make USA Universal coupler, Milton coupler, ARO coupler, Truflate coupler etc.
2. Target market: North America, South America.
3. Material: Steel, Brass, Stainless Steel.
4. Various surface coating: Chrome plated, Nickel plated, Copper color etc.
5. Proven and positive connection using ball-locking mechanism.
6. Used for air tools and air compressors.
 
Specifications
| | |
| --- | --- |
| Product Name | 3 in 1 Nylon Locking Sleeve Quick Coupling |
| Plug Types | Milton Series, Aro Series and Euro Series |
| Working Pressure | 0-150 Psi |
| Temperature | -40°F to 225°F/ -20°C to 107°C |
| Air Flow | 35 SCFM at 100 Psi |
Advantages
1. Safety connection and disconnection.
2. The coupler automatically vents pressure before release.
3. The coupler prevents accidental hose whip 
4. Fit for compact space, good gripping.
Packing & Shipping
Packing:
Transparent plastic bag + white small box + neutral carton + pallet
Custom packaging are available, XHnotion brand packagwe are available
 
Shipping:
Export port: HangZhou or ZheJiang , China
Shipping way: by sea, by air, by courier
Express: TNT, DHL, UPS, FedEX, SF Express
Delivery time: 3 days to 30 days depends on actual orders.
Our Company
XHnotion originate from notion between pneumatic power and human.
(X stands for winds, H stands for human)
In Chinese, XHnotion stands for 'we do, we promise'  we read it 'X-notion'.
The company XHnotion Pneumatic was founded in 2007 and has developed with a steadily growing success to a reliable partner for international established clients.
This success of the company XHnotion Pneumatic is based on:
High class quality standard
Customer satisfaction
Fair price policy
Flexibility
The high-class quality standard of the products of company XHnotion is reflected in our quality management system, certificated ISO 9001:2008. And we got CE, RoHS, REACH certificate for international market. XHnotion Pneumatic manufactures below products:
Pneumatic Components: air cylinder, solenoid valve, FRL
Solenoid Calve: standard solenoid valve, multipurpose solenoid valve, pneumatic angle valve
Pneumatic Fittings: plastic pneumatic fittings, metal pneumatic fittings, pneumatic muffler, water push in fittings
Air Hoses: air tubing, PTFE tubes, tube cutter, pipes
Trade Shows
Why Choose US?
1. We offer 1 stop solution. Over 5000 items for you to save efforts and costs.
2. We have molds workshop, die-casting workshop, CNC workshop, plastic injection workshop to 
    make sure each part exactly as the drawing and good function.
3. We will reply you within 24 hours.
4. Whatever quantity you are requesting, we always offer you the best quality.
5. 3D drawing, CAD drawing service for custom fittings, hose, valve, cylinder.
FAQ
Payment Terms:
We accept T/T, L/C, Paypal, Western Union,etc.
 
Samples Policy:
For regular items, free samples against your courier account or you pick up from us.
For custom items, we will discuss by email.
 
Return Policy: 
We assure you 1 year policy after shipment. 
If there is any problem during this period, please contact us for support.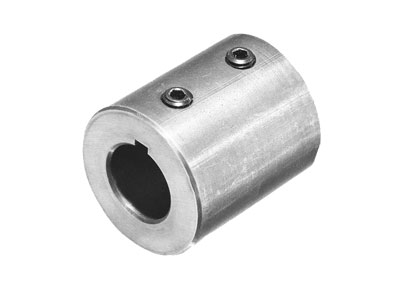 What are the Maintenance Requirements for Sleeve Couplings to Ensure Optimal Performance?
Proper maintenance is essential to ensure the optimal performance and longevity of sleeve couplings. Regular inspections and maintenance practices help identify early signs of wear, misalignment, or other issues that may affect the coupling's performance. Here are some maintenance requirements for sleeve couplings:
1. Regular Visual Inspections:
Perform visual inspections of the sleeve coupling regularly. Look for signs of wear, corrosion, or damage on the coupling surface. Check for any visible misalignment between the shafts connected by the coupling.
2. Lubrication:
Some sleeve couplings may require lubrication to reduce friction and wear. Check the manufacturer's recommendations for the appropriate lubricant and lubrication interval.
3. Check for Misalignment:
Monitor the shaft alignment periodically to ensure that the coupling is not subjected to excessive misalignment. Misalignment can lead to premature wear and failure of the coupling and connected equipment.
4. Inspect Fasteners:
Check any fasteners, such as set screws or clamps, that secure the sleeve coupling to the shafts. Ensure they are tight and secure to prevent any slipping or movement.
5. Evaluate Operating Conditions:
Assess the operating conditions of the motion control system regularly. Consider factors such as temperature, humidity, vibration, and exposure to corrosive substances. Make necessary adjustments or upgrades to protect the sleeve coupling from adverse conditions.
6. Balance the Coupling:
If the coupling operates at high speeds, balancing may be necessary to prevent excessive vibration and ensure smooth performance. Consider dynamic balancing for high-speed applications.
7. Replace Worn or Damaged Couplings:
If visual inspections reveal signs of significant wear, damage, or deformation, it is essential to replace the sleeve coupling promptly. Continuing to use a damaged coupling can lead to further issues and compromise system performance.
8. Follow Manufacturer's Guidelines:
Always follow the manufacturer's maintenance guidelines and recommendations specific to the sleeve coupling model. Adhering to these guidelines will ensure that the coupling performs as intended and maintains its service life.
9. Record Keeping:
Keep records of maintenance activities and inspections for each sleeve coupling in the system. This recordkeeping will help track the coupling's performance over time and identify any recurring issues.
By following these maintenance requirements, motion control systems can maintain the optimal performance of sleeve couplings, minimize downtime, and extend the life of both the coupling and connected equipment.
Can Sleeve Couplings be Customized or Adapted to Specific Industrial Needs?
Yes, sleeve couplings can be customized or adapted to meet specific industrial needs. Manufacturers often offer a range of customization options to tailor sleeve couplings to the unique requirements of different applications. The ability to customize sleeve couplings makes them versatile and widely used in various industries. Here are some common ways in which sleeve couplings can be customized:
Shaft Size: Sleeve couplings can be manufactured to fit specific shaft diameters. This customization ensures a precise fit, minimizing the need for additional modifications during installation.
Material Selection: Depending on the application's environmental conditions and torque requirements, sleeve couplings can be made from different materials, such as steel, stainless steel, aluminum, or even non-metallic materials like composites or plastics.
Keyway Options: Some applications may require keyways to provide additional torque transmission and anti-rotation capabilities. Customized sleeve couplings can be manufactured with keyways that match the shaft's keyway dimensions.
Length and Diameter: The coupling length and overall diameter can be adjusted to suit the available space and installation requirements of the specific application.
Electrically Insulated: As mentioned earlier, for applications requiring electrical insulation between shafts, manufacturers can produce electrically insulated sleeve couplings using non-conductive materials like ceramic or composite.
Special Environmental Coatings: In harsh environments or corrosive conditions, sleeve couplings can be coated with specialized materials to enhance corrosion resistance and extend the coupling's service life.
Anti-Backlash Features: For precision applications, custom sleeve couplings can be designed with anti-backlash features to reduce play and enhance accuracy.
High-Temperature Performance: Some applications involve high temperatures. In such cases, manufacturers can use materials that can withstand elevated temperatures without compromising the coupling's performance.
When considering customization, it's essential to collaborate closely with coupling manufacturers or engineering experts who have experience in designing and fabricating custom sleeve couplings. They can offer valuable insights and guidance to ensure the coupling meets the specific industrial needs and performs optimally in the intended application.
By offering a wide range of customization options, sleeve couplings can be adapted to various industries, including robotics, automation, machinery, pumps, conveyors, and more.
How do you Select the Appropriate Sleeve Coupling for Specific Shaft Connections?
Choosing the right sleeve coupling for specific shaft connections involves considering several critical factors to ensure optimal performance and reliability. Here's a step-by-step guide to help you select the appropriate sleeve coupling:
Shaft Diameter and Size:

Start by determining the diameters and sizes of the shafts that need to be connected. Measure the outer diameter of each shaft accurately, as this will determine the inner diameter of the sleeve coupling required.

Shaft Misalignment:

Assess the level of misalignment between the shafts. If there is minimal misalignment, a standard sleeve coupling may be sufficient. For applications with angular misalignment, consider using a spacer sleeve coupling or a flanged sleeve coupling with improved alignment capabilities.

Torque Requirements:

Determine the amount of torque that the coupling needs to transmit between the shafts. Ensure that the selected sleeve coupling can handle the torque requirements without exceeding its rated limits.

Operating Speed:

Consider the speed at which the connected machinery operates. For high-speed applications, flanged sleeve couplings with enhanced radial stiffness are preferable to minimize vibration and ensure smooth operation.

Environmental Conditions:

Evaluate the operating environment to identify potential challenges such as temperature extremes, exposure to chemicals, or the presence of dust or debris. Choose a sleeve coupling material that can withstand the specific environmental conditions and resist corrosion or wear.

Installation Space and Accessibility:

Assess the installation space and accessibility around the shafts. If the installation space is limited or the shafts cannot be easily disconnected, consider using split sleeve couplings for easier maintenance and installation.

Cost and Budget:

Take into account the budget and cost constraints for your project. While standard sleeve couplings are generally the most cost-effective option, investing in a higher-quality coupling may be beneficial for critical applications with specific requirements.
By carefully evaluating these factors, you can determine the appropriate sleeve coupling type and size that matches your specific shaft connections. It is crucial to consult with coupling manufacturers or suppliers to get expert advice and ensure that the selected coupling meets the performance requirements of your application. Proper coupling selection will lead to efficient power transmission, reduced maintenance, and prolonged equipment lifespan in your mechanical system.



editor by CX 2023-11-07