Product Description
Product Description
Nylon Sleeve Gear Coupling
 
KASIN Nylon Sleeve Couplings flexible shaft connections for a positive torque transmission and specifically suitable to compensate for axial, radial and angular shaft misalignment.
KASIN Nylon Sleeve Couplings are compact and require no lubrication. They are adapted to many applications including vertical and blind installations. They operate over a wide range of temperature at speed up to 5,/8822 0571 -57152031              Fax: 86~/8822 0571 -57152030
 
Http://kasinchain      
How do Sleeve Couplings Contribute to Reducing Vibrations and Noise in Rotating Equipment?
Sleeve couplings play a significant role in reducing vibrations and noise in rotating equipment. Their design and material properties contribute to damping vibrations and absorbing shocks, resulting in smoother and quieter operation. Here's how sleeve couplings achieve this:
1. Flexibility and Misalignment Compensation:
Sleeve couplings have a certain degree of flexibility, which allows them to accommodate small misalignments between the connected shafts. When the shafts are misaligned, the sleeve coupling can flex and adjust, reducing the transmission of vibrations from one shaft to the other. By compensating for misalignments, sleeve couplings minimize the generation of vibrations and the resulting noise.
2. Shock Absorption:
During sudden starts, stops, or changes in load, rotating equipment can experience shocks and impact loads. Sleeve couplings have some level of shock absorption capability, which helps dampen the effects of these shocks. By absorbing shocks, sleeve couplings prevent the transmission of high-frequency vibrations and noise to the rest of the system, resulting in a quieter operation.
3. Resilient Material Selection:
The choice of materials used in sleeve couplings also contributes to vibration and noise reduction. Certain materials, such as rubber or elastomers, are known for their damping properties. These materials can be incorporated into the design of sleeve couplings to absorb and dissipate vibrations, effectively reducing noise levels in the system.
4. Uniform Torque Transmission:
Sleeve couplings provide uniform torque transmission between the connected shafts. This balanced torque transmission minimizes torsional vibrations, which can lead to noise generation in the system. By maintaining a smooth torque transfer, sleeve couplings help achieve quieter and more stable operation.
5. Proper Installation and Maintenance:
Proper installation and regular maintenance of sleeve couplings are essential for their optimal performance in reducing vibrations and noise. Ensuring that the coupling is correctly aligned and well-lubricated can further enhance its ability to dampen vibrations and minimize noise levels.
In summary, sleeve couplings contribute to reducing vibrations and noise in rotating equipment by providing flexibility to accommodate misalignments, absorbing shocks, using resilient materials, and ensuring uniform torque transmission. Their ability to mitigate vibrations and noise enhances the overall performance and reliability of the rotating equipment, making them a preferred choice in various industrial applications.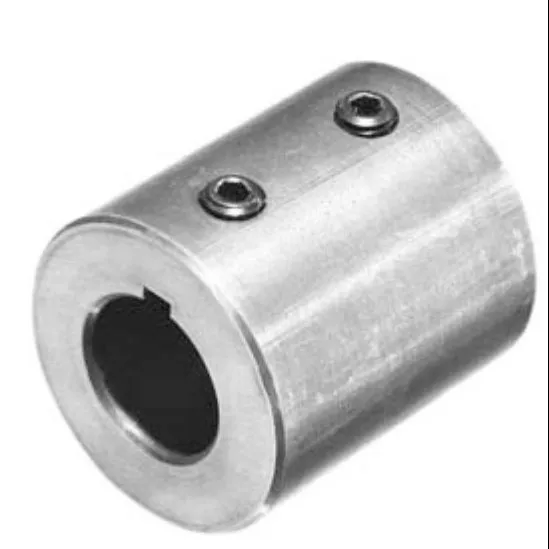 How do Sleeve Couplings Compare to Other Coupling Types, such as Flexible or Rigid Couplings?
Sleeve couplings, flexible couplings, and rigid couplings are three common types of couplings used in mechanical power transmission. Each type has its unique characteristics and applications. Here's a comparison of sleeve couplings with flexible and rigid couplings:
Sleeve Couplings: Sleeve couplings are simple and cost-effective couplings that join two shafts end-to-end. They provide some flexibility to accommodate slight shaft misalignments and are suitable for low to moderate torque applications. They are easy to install and do not require extensive maintenance. However, they have limited misalignment compensation and cannot handle significant shaft offsets.
Flexible Couplings: Flexible couplings are designed to handle greater misalignments compared to sleeve couplings. They can accommodate angular, parallel, and axial misalignments, providing higher flexibility. Flexible couplings dampen vibrations and reduce shock transmission, contributing to smoother operation. They are available in various designs such as elastomeric, beam, and disc couplings, each offering specific benefits. Flexible couplings are ideal for applications where misalignments, vibrations, or shock loads are significant.
Rigid Couplings: Rigid couplings are designed to connect shafts in a straight and rigid manner, without any flexibility. They provide accurate shaft alignment, making them suitable for precision applications. Rigid couplings are robust and transmit torque with high efficiency. However, they cannot accommodate misalignments and are susceptible to vibrations and shocks. Rigid couplings are commonly used in applications where precise shaft alignment is critical.
Choosing the appropriate coupling type depends on the specific requirements of the application:
Alignment Requirements: If the application demands accurate shaft alignment and no misalignment compensation is needed, rigid couplings are suitable. For moderate misalignments, sleeve couplings may be sufficient, while flexible couplings are preferred for significant misalignments.
Vibration and Shock Damping: If vibration and shock absorption are essential, flexible couplings are preferred due to their ability to dampen vibrations. Sleeve couplings have limited vibration damping capabilities, while rigid couplings do not dampen vibrations.
Torque and Load: For low to moderate torque and loads, sleeve couplings are cost-effective choices. For higher torque applications with misalignment compensation, flexible couplings are preferred. Rigid couplings are suitable for high torque and precise alignment applications.
In summary, sleeve couplings provide a basic connection between shafts with limited misalignment compensation. Flexible couplings offer higher misalignment accommodation and vibration damping, making them versatile for various applications. Rigid couplings excel in precise shaft alignment requirements but lack flexibility and shock absorption.
Can you Explain the Working Principle of a Sleeve Coupling and its Advantages in Various Industries?
A sleeve coupling operates on a simple and effective working principle, making it a versatile choice for various industries. The working principle and advantages of a sleeve coupling are as follows:
Working Principle:
A sleeve coupling connects two shafts with their ends aligned. The coupling consists of a hollow cylindrical sleeve that fits over the shaft ends. The inner diameter of the sleeve matches the outer diameter of the shafts, creating a snug fit. The sleeve coupling does not have any mechanical components like teeth, gears, or keys, relying on the friction between the shaft and the sleeve for torque transmission.
When one shaft rotates, it transfers torque to the sleeve coupling. The frictional force between the sleeve and the shaft causes the sleeve to rotate. As a result, the torque is transmitted from one shaft to the other through the sleeve, enabling power transmission between the two shafts. The sleeve coupling's flexibility allows it to compensate for minor misalignments between the shafts, ensuring smooth torque transmission even when the shafts are not perfectly aligned.
Advantages in Various Industries:
Sleeve couplings offer several advantages that make them suitable for use in various industries:
Simple Design and Installation: Sleeve couplings have a straightforward design, making them easy to install and maintain. They do not require complex alignment procedures, which reduces setup time and associated costs in industrial applications.
Cost-Effectiveness: Sleeve couplings are economical compared to other types of couplings. Their basic design and materials contribute to their cost-effectiveness, making them an attractive choice for budget-conscious projects.
Flexibility and Misalignment Compensation: Sleeve couplings can accommodate slight angular and axial misalignment between the shafts. This flexibility is beneficial in applications where precise shaft alignment is challenging or when machinery experiences minor shifts during operation.
Shock Absorption and Vibration Damping: The flexibility of sleeve couplings allows them to dampen vibrations and absorb shocks, preventing them from transferring to connected machinery. This feature enhances the stability and reliability of mechanical systems, especially in applications with varying loads or operating conditions.
Wide Range of Applications: Sleeve couplings find applications in various industries, including general machinery, pumps, compressors, conveyors, and power transmission systems. They are well-suited for moderate torque and speed requirements in a diverse range of industrial settings.
While sleeve couplings offer significant advantages, they may not be suitable for applications with severe misalignment, high torque or speed requirements, or those that demand precise shaft alignment. In such cases, other types of couplings with specific features may be more appropriate. Proper selection and sizing of the sleeve coupling based on the application's requirements ensure efficient and reliable power transmission, contributing to enhanced productivity and reduced downtime in various industries.



editor by CX 2023-11-16