Product Description
PRODUCT
Stainless steel pipe fitting. threaded fittings, including elbow, tee, hex nipple, union, hose nipple, reducing bushing, street elbow, plug, cap, SS ball valve such as 1pc ball valve, 2pc ball valve, 3pc ball valve, socket weld ball valve, butt weld ball valve, flange valve, gate valve, globe valve, mini valve, camlock coupling, quick coupling, type A, type B, type C, type D, type E, type F, type DC, type DP, cam and groove coupling, and so on. Natural surface, silvery finished. BSPP, BSPT, NPT, DIN thread, male and female thread. All materials, Stainless steel 201, Stainless steel 304, Stainless steel 316/316l, butt weld and socket weld end. Pressure 150lb and 3000psi.
| | | | | |
| --- | --- | --- | --- | --- |
| Description | Thread | Surface | Material | Pressure |
| Stainless Coupling | NPT,BSPT,G or others | Natural Color | Stainless steel 201, Stainless steel 304, Stainless steel 316 | 150LB |
PRODUCT DETAILS
Our stainless steel threaded pipe fittings have perfect surface and thread, the thread of pipe fittings are strictly according to the BSPP/BSPT/NPT/DIN standard.
Warehouse and Workshop
We have introduced dozens of advanced CNC lathes to ensure the processing technology of products. Our advanced processing technology can ensure that the products meet the requirements of various standards, and our pipe nipples and pipe fittings have won the certification of the ISO9001 and CE.
PRODUCTION PROCESS
Our staff are all skilled operators, each process is strictly controlled and we have got through the third party inspection. We adopt the international advanced technology, and we have introduced dozens of advanced CNC lathes to ensure the processing technology of products
PAYMENT AND DELIVERY
We accept all kinds of payment terms. We could customize the packing according to your requirments. Boxes/Cartons/Bags/Pallets,etc.
EXHIBITION
Our stainless steel and carbon steel pipe nipples and pipe fittings has won a high reputation from the clients all over the world. We take part in various exhibitions every year and get to know many customers around the world. Most of our clients are from the exhibitions.
OUR TEAM
We have Experienced professional r&d team and international trade service team.We provide OEM/ODM order service or by drawing produce service. We always adhere to the tenet of qualtiy first,reputation first as our business idea. Our factory more than 15 years engaged in the rearch and production of various of stainless steel and carbon steel pipe nipple and pipe fittings.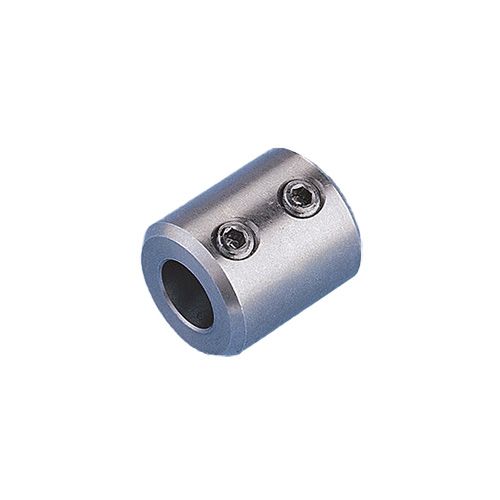 Can Sleeve Couplings Accommodate Axial and Angular Misalignments Simultaneously?
Yes, sleeve couplings are designed to accommodate both axial and angular misalignments simultaneously. They offer a certain degree of flexibility, allowing them to compensate for minor misalignments between the shafts they connect. Here's how sleeve couplings handle axial and angular misalignments:
1. Axial Misalignment:
Axial misalignment refers to the misalignment that occurs along the axis of the connected shafts. In other words, one shaft is slightly offset from the other along their common centerline. Sleeve couplings can tolerate a small amount of axial misalignment because of their flexible nature.
When axial misalignment occurs, the sleeve coupling can flex along its length, allowing the shafts to remain connected despite the slight offset. The coupling's flexibility prevents excessive stress on the connected machinery and helps maintain a smooth torque transmission.
2. Angular Misalignment:
Angular misalignment, on the other hand, occurs when the two shafts are not perfectly aligned in the same plane. Instead, they form an angle with each other. Sleeve couplings can also accommodate a certain amount of angular misalignment.
When angular misalignment is present, the sleeve coupling can bend and twist slightly to compensate for the angle between the shafts. This ability to flex and twist ensures that the coupling can transmit torque efficiently and reduces the risk of premature wear or damage to the system.
Simultaneous Axial and Angular Misalignment:
Sleeve couplings are well-suited to handle both axial and angular misalignments simultaneously. When a system experiences both types of misalignments, the sleeve coupling's flexibility allows it to adjust and compensate for both the axial offset and angular deviation between the shafts.
It is important to note that while sleeve couplings can handle some misalignments, excessive misalignments should be avoided to prevent excessive wear and premature failure of the coupling. Regular inspections and maintenance can help ensure that the coupling operates within its designed misalignment limits and maintains optimal performance in the motion control system.
In summary, sleeve couplings can simultaneously accommodate both axial and angular misalignments to a certain extent due to their flexible and forgiving design. However, it is essential to ensure that the system is well-aligned and that the coupling is regularly inspected to ensure it functions correctly and provides reliable power transmission in various industrial applications.
What are some Real-world Examples of Successful Sleeve Coupling Installations and their Benefits?
There are numerous real-world examples of successful sleeve coupling installations in various industries, each demonstrating the benefits of using these couplings in different applications. Here are some examples:
Pump Systems: Sleeve couplings are commonly used in pump systems to connect the motor shaft to the pump impeller. The simplicity and ease of installation of sleeve couplings make them a popular choice in this application. Benefits include reliable power transmission, easy maintenance, and cost-effectiveness.
Conveyor Systems: In conveyor systems, sleeve couplings are used to connect the conveyor motor to the driving pulley shaft. The ability to accommodate misalignment and the low maintenance requirements of sleeve couplings contribute to the smooth operation and long service life of these systems.
Automation Machinery: Sleeve couplings play a crucial role in various automation machinery, such as robotics and CNC machines. Their compact design and torsional flexibility ensure precise motion control and efficient power transmission.
Industrial Mixers and Agitators: Sleeve couplings are used in mixers and agitators to connect the motor shaft to the mixing impeller or agitator. The ability to handle misalignment and dampen vibrations helps improve the equipment's performance and reliability.
Machine Tools: In machine tools, such as lathes and milling machines, sleeve couplings are utilized for connecting the motor to the tool's spindle. The backlash-free characteristics of some sleeve couplings contribute to the precision and accuracy of machining operations.
Automotive Industry: In the automotive industry, sleeve couplings are used in various components, such as windshield wipers, power windows, and power seats. Their compact size and ease of installation make them suitable for these automotive applications.
Printing Equipment: Sleeve couplings are commonly used in printing presses to connect the motor to various rollers and cylinders. The simple design and reliable performance of sleeve couplings contribute to the efficiency of printing processes.
The benefits of sleeve couplings in these real-world examples include:
Easy Installation: Sleeve couplings are easy to install, reducing downtime during equipment assembly or maintenance.
Misalignment Compensation: Sleeve couplings can accommodate minor misalignments, reducing the risk of shaft damage and increasing the equipment's lifespan.
Vibration Damping: Sleeve couplings dampen vibrations and shocks, minimizing stress on connected components and extending their service life.
Cost-effectiveness: Sleeve couplings offer a cost-effective solution for many power transmission applications, making them a popular choice in various industries.
Low Maintenance: Sleeve couplings require minimal maintenance, leading to reduced operating costs and increased productivity.
Torsional Flexibility: The torsional flexibility of sleeve couplings allows for smooth power transmission, reducing the risk of equipment damage due to sudden torque spikes.
These real-world examples demonstrate how sleeve couplings contribute to the efficiency, reliability, and performance of diverse mechanical systems in numerous industrial settings.
How do you Select the Appropriate Sleeve Coupling for Specific Shaft Connections?
Choosing the right sleeve coupling for specific shaft connections involves considering several critical factors to ensure optimal performance and reliability. Here's a step-by-step guide to help you select the appropriate sleeve coupling:
Shaft Diameter and Size:

Start by determining the diameters and sizes of the shafts that need to be connected. Measure the outer diameter of each shaft accurately, as this will determine the inner diameter of the sleeve coupling required.

Shaft Misalignment:

Assess the level of misalignment between the shafts. If there is minimal misalignment, a standard sleeve coupling may be sufficient. For applications with angular misalignment, consider using a spacer sleeve coupling or a flanged sleeve coupling with improved alignment capabilities.

Torque Requirements:

Determine the amount of torque that the coupling needs to transmit between the shafts. Ensure that the selected sleeve coupling can handle the torque requirements without exceeding its rated limits.

Operating Speed:

Consider the speed at which the connected machinery operates. For high-speed applications, flanged sleeve couplings with enhanced radial stiffness are preferable to minimize vibration and ensure smooth operation.

Environmental Conditions:

Evaluate the operating environment to identify potential challenges such as temperature extremes, exposure to chemicals, or the presence of dust or debris. Choose a sleeve coupling material that can withstand the specific environmental conditions and resist corrosion or wear.

Installation Space and Accessibility:

Assess the installation space and accessibility around the shafts. If the installation space is limited or the shafts cannot be easily disconnected, consider using split sleeve couplings for easier maintenance and installation.

Cost and Budget:

Take into account the budget and cost constraints for your project. While standard sleeve couplings are generally the most cost-effective option, investing in a higher-quality coupling may be beneficial for critical applications with specific requirements.
By carefully evaluating these factors, you can determine the appropriate sleeve coupling type and size that matches your specific shaft connections. It is crucial to consult with coupling manufacturers or suppliers to get expert advice and ensure that the selected coupling meets the performance requirements of your application. Proper coupling selection will lead to efficient power transmission, reduced maintenance, and prolonged equipment lifespan in your mechanical system.



editor by CX 2023-11-16